GBE > Blog > News > Campaigns > G#13485
UK Government: Climate Change commitments & ratification of Paris Climate Deal
---
Thank you.
If you're reading this, chances are you love nature, our beaches here in the UK, the birds, the trees, the wildlife and our oceans too.
Five months ago, we were worried that much of what we loved was under threat. Things looked very uncertain for not just nature, but the UK position as a leader on climate action too.
Five months ago, Britain voted to leave the European Union. We were worried that a vote to leave would be a licence to pull the plug on over 40 years of progress on environmental legislation.
BUT, then you stepped in and stepped up. We started by raising over £40,000 in an emergency appeal to fund our immediate response to protect what we love.
Money raised paid for a high-profile investigation revealing sixteen of the richest people in the country were getting taxpayer funded handouts at the expense of nature.[1]
Over 12,000 people sent personal messages, which were stuck to the Vote Leave bus.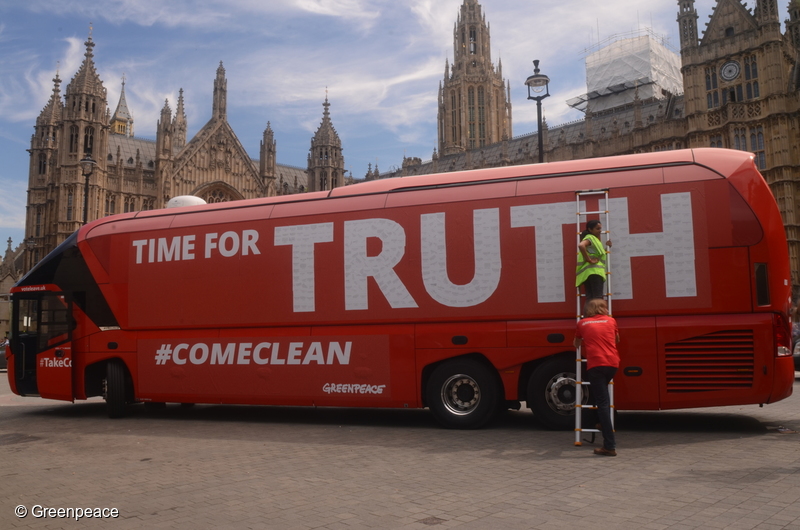 Because of over 120,000 signatures on a petition, Theresa May stood on the world stage and promised that the UK would not shy away from it's climate change commitments and would ratify the Paris Climate Deal. [2]
Because of thousands of emails to MPs and the lobbying efforts of local Greenpeace groups, over 100 MPs have now committed to protecting our nature laws no matter what.
As the year draws to a close we're busy planning the next stage of our campaign to defend Britain's beautiful countryside and the seas that surround us. We'll be back in touch early next year, and when we are, we'll win together.
Thanks for everything you did.
Aakash, Fran, and the rest of the Laws of Nature team.
Notes
[1] Common Agricultural Policy: Rich List receive millions in EU subsidies: http://energydesk.greenpeace.org/2016/09/29/common-agricultural-policy-millions-eu-subsidies-go-richest-landowners/
[2] 'The moment we finally decided to save our planet': US and China ratify Paris climate deal:http://www.telegraph.co.uk/news/2016/09/03/chinas-parliament-ratifies-paris-climate-change-agreement-ahead/